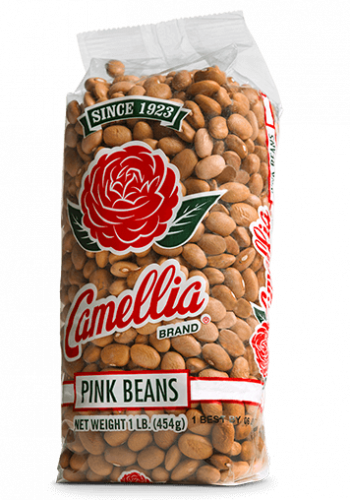 Pink Beans
Pink Beans are small, pale and brownish-pink with a rich, meaty flavor and a slightly powdery texture. Pink Beans can really hold spices, making them great for Mexican meals – try them for homemade refried beans. They're similar to pinto beans, but smaller and rounder. Like all of our beans, Camellia's Pink Beans are non-GMO, gluten-free, and meet the "Hayward Standard" – the name our growers gave our bean quality standard – which exceeds the top USDA requirements. Try some today – we think you'll taste the difference.
Buy Online
Find a Store
Nutritional Information
close
Nutrition Facts
Serving Size: 1 Cup, Cooked
Number of Servings: 6
Amount Per Serving
Calories 240
Calories from Fat 9
% Daily Value
Total Fat 1
1%
Saturated Fat 0g
0%
Trans Fat 0g
Cholesterol 0mg
0%
Sodium 3mg
0%
Total Carbohydrate 51g
17%
Dietary Fiber 7g
28%
Sugars 4g
Protein 14g
28%
*Percent Daily Values are based on a 2,000 calorie diet. Your daily values may be higher or lower depending on your calorie needs.
What Are Pink Beans?
Popular in Caribbean countries, pink beans, or habichuelas rosadas, are similar in size to pinto beans and Great Northern beans and have a rich, meaty flavor. Pink beans are also a favorite in Old West recipes, barbecue-style dishes, and Mexican-American cuisine.
Read More