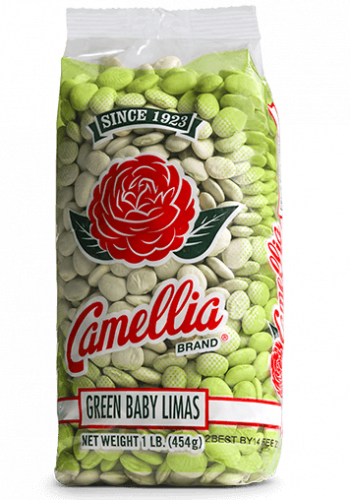 Green Baby Limas
Green Baby Lima Beans are pale green and plump – more tender and creamy than their larger (Large Lima or Butter Bean) counterparts but with the same high fiber and super-charged nutritional value. Try them in soups, stews, and side dishes. Their lovely pale green color and delicate flavor make them both pretty and delicious in a salad, too. Like all of our beans, Camellia's Green Baby Lima Beans are non-GMO, gluten-free, and meet the "Hayward Standard" – the name our growers gave our bean quality standard – which exceeds the top USDA requirements. Try some today – we think you'll taste the difference.
Buy Online
Find a Store
Nutritional Information
close
Nutrition Facts
Serving Size: 1 Cup, Cooked
Number of Servings: 6
Amount Per Serving
Calories 230
Calories from Fat 9
% Daily Value
Total Fat 1
1%
Saturated Fat 0g
0%
Trans Fat 0g
Cholesterol 0mg
0%
Sodium 4mg
0%
Total Carbohydrate 47g
15%
Dietary Fiber 8g
32%
Sugars 5g
Protein 15g
32%
*Percent Daily Values are based on a 2,000 calorie diet. Your daily values may be higher or lower depending on your calorie needs.
What Are Green Baby Lima Beans?
Lima Beans are some of the most nutritious foods in the world, packed with fiber, vitamins and minerals. A favorite the American South, Limas are actually named after the capital of Peru; and they have more nicknames than any other bean: butter bean, Rangoon bean, Burma bean, Madagascar bean, and chad bean. Like common beans, they originated in Peru where they were cultivated even before corn. They are so entrenched in Peruvian culture that they appear on the pottery of the Moche people, who inhabited northern Peru in the 15th century. Lima beans were also grown by Native Americans in the southern part of the United States and were brought back to Europe in the 16th century by explorers. Today they are also popular in Southeast Asia.
Read More