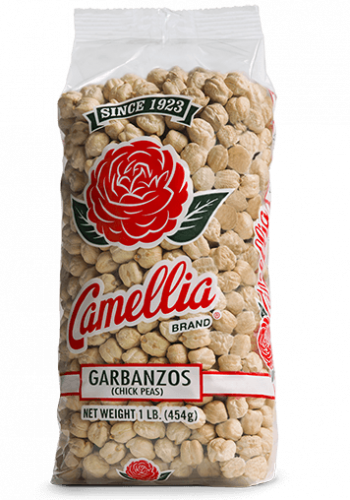 Garbanzos
Garbanzos might be most popular as the main ingredient in hummus, but they're a delicious part of many Italian, Middle Eastern, and Indian recipes. Plus, they're a great source of protein, minerals, vitamins, fiber, and other beneficial nutrients. Like all of our beans, Camellia's Garbanzo Beans are non-GMO, gluten-free, and meet the "Hayward Standard" – the name our growers gave our bean quality standard – which exceeds the top USDA requirements. Try some today – we think you'll taste the difference.
Buy Online
Find a Store
Nutritional Information
close
Nutrition Facts
Serving Size: 1 Cup, Cooked
Number of Servings: 6
Amount Per Serving
Calories 270
Calories from Fat 36
% Daily Value
Total Fat 4
6%
Saturated Fat 0g
0%
Trans Fat 0g
Cholesterol 0mg
0%
Sodium 11mg
0%
Total Carbohydrate 51g
17%
Dietary Fiber 6g
24%
Sugars 8g
Protein 15g
24%
*Percent Daily Values are based on a 2,000 calorie diet. Your daily values may be higher or lower depending on your calorie needs.
What Are Garbanzo Beans?
Garbanzo beans, also called chickpeas, have been grown in the Mediterranean, Middle East, India, and some parts of Africa for more than 7,000 years. The ancient Greeks ate them as snacks. Today they are popular in the cuisines of southwestern Asia, northern India, Spain, Italy, and Latin America.
Read More